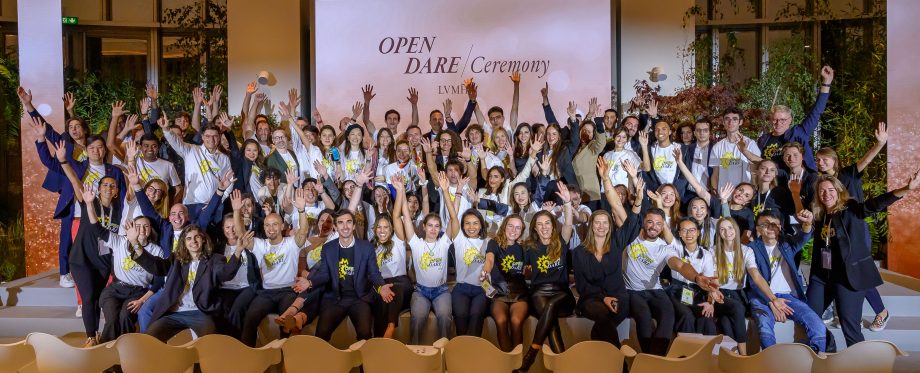 DARE (Disrupt Act Risk to be an Entrepreneur) is the global LVMH intrapreneurship program developed by LVMH Open Innovation. Mobilizing all Maisons, verticals, regions and savoir-faire, the program is unique both within LVMH and the luxury industry. Last May, the Open Innovation department launched Open DARE,  a new kind of DARE: one that was open to ALL group and Maisons talents. Open DARE was the first global call for ideas, and the first one to welcome all ideas for innovation.
"We had a dream, a DARING idea: to give every talent of the Group, whatever their job, country, Maison, skillset… the opportunity and the resources to develop their innovation idea", explained Laetitia Roche-Grenet, Open Innovation's Director, "This Open DARE is the culmination of our work and ambition; it catalyzes our belief that if you have an idea, energy, and passion, then your idea can become a reality."
After a call for ideas, 60 ideas were selected by a special committee to participate in a pitching session, at the end of which candidates voted for the 12 most promising ideas and joined the team of their choice.
On October 10th, these talents flew to Paris to meet one another and brainstorm the next phase of their project together. After three intense days of mentoring, pitch rewriting, and business plan development, each team presented to a jury of high-level executives from LVMH and its Maisons, along with outside entrepreneurs. The jury selected three winning projects that will be sponsored within the highest level of the organization: an innovative travel device, a technological solution for monitoring fabric quality, and an augmented experience contained in a piece of jewelry.
Congratulations to the participants for all their hard work and commitment these past few months. Congratulations to everyone who posted an idea for this Open DARE. And congratulations to the entire DARE community for their boldness and passion for innovation. Keep DARING!